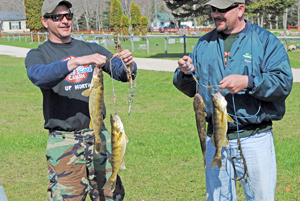 Spring, Summer and Fall in Curtis
It's never too early to plan ahead for our next warm weather season. Vacationers enjoy a variety of warm weather recreational opportunities, events, spectacular accommodations, water-filled activities, and the Erickson Center which hosts art, music and physical enrichment activities. Please visit the Events Calendar to find dates on: Art on the Lake Celebration, Independence Day "Largest Little Town Parade", and Music in the Park just to name a few.

Summer visitors enjoy world-class fishing, hunting, mushrooming, canoeing, kayaking, boating, sailing, swimming, jet skiing, and ATV & ORVing. Curtis also has three area golf courses: The Newberry Country Club, The Indian Lake Golf & Country Club in Manistique and the Hiawatha Sportsman's club.