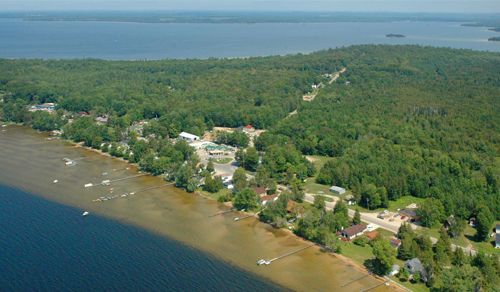 Manistique Lakes of Curtis, MI
Welcome to Curtis, Michigan and Upper Peninsula's Largest Lake Complex the Manistique Lakes. The lake complex is made up of six major area lakes: North Manistique Lake, Big Manistique Lake, South Manistique lake, Milakokia Lake, Lake Ann Louise, and Millecoquins Lake. Visitors can expect world-class trophy fishing from these lakes. Vacationers are also centered within the Upper Peninsula's two Great Lakes: Lake Michigan and Lake Superior.

Manistique Lake Facts
If you enjoy Upper Peninsula fishing and water recreation, consider a vacation centered within the Manistique Lakes Area. The six major lakes are: North Manistique Lake at 1,722 acres; Big Manistique Lake at 10,130 acres; South Manistique Lake at 4,001 acres; Milakokia Lake at 1,956 acres; Lake Ann Louise at 311 acres; and Millecoquins Lake at 1,890 acres. With numerous other small lakes in the area, a visitor has well over 20,000 acres of inland lake water to enjoy, in addition to the great lakes of Superior and Michigan, and hundreds of miles of rivers and streams.