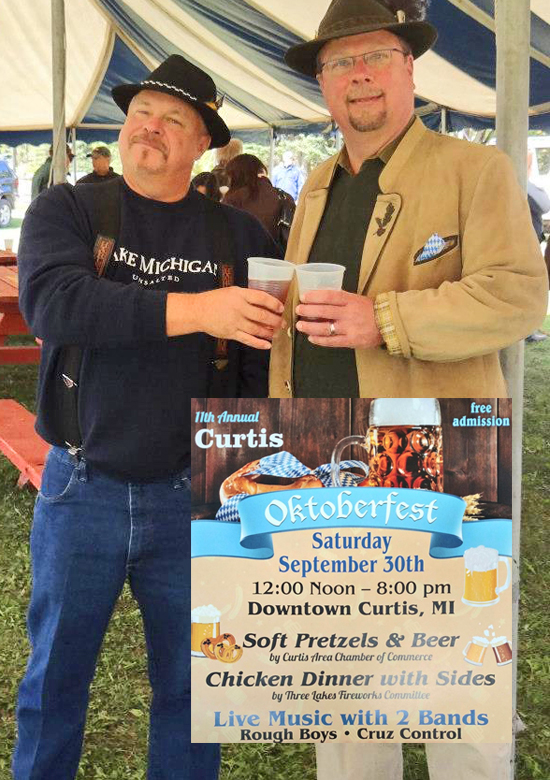 Experience Spring, Summer and Fall in Curtis, Michigan
New Season, Great Reason to Visit Curtis
The MLATB, Manistique Lakes Area Tourism Bureau would like to welcome you Curtis, MI. Curtis is well known as the UP's, "Unique Waterfront Village" bordered by the Manistique Lakes. There is no better time to enjoy this water wonderland than spring, summer and fall.

Fall Season Special Event - Oktoberfest
Oktoberfest will be held on September 30th, 12:00 Noon - 8:00 pm in downtown Curtis, Michigan. Come and share in a great experience.

Oktoberfest offers: soft pretzels & beer, chicken dinner with sides, 2 live bands (Rough Boys & Cruz Control), wine pull, pie sale, popcorn, a 5K Fun/Run Walk, and there will also be vendors there. This is brought to you by the Curtis Area Chamber of Commerce.

Our Location
Mackinac County is located in the center of the Upper Peninsula's largest lake complex, which consists of: North Manistique Lake (also known as Round Lake), Big Manistique Lake, South Manistique Lake, Milakokia Lake, Lake Ann Louise, and Millecoquins Lake.

Fall Activities
Vacationers enjoy a variety of warm weather to more cool temps for recreational opportunities, events, spectacular accommodations, and the Erickson Center which hosts art, music and physical enrichment activities. Please visit the Events Calendar to find dates on other great Sept, Oct and early November events.

Fall visitors enjoy world-class fishing, whitetail deer hunting, mushrooming, canoeing, kayaking, boating, and ATV & ORVing. Curtis also has three area golf courses: The Newberry Country Club, The Indian Lake Golf & Country Club in Manistique and the Hiawatha Sportsman's club.